Ayurveda & Yoga- Naturopathy
(Science & Way of life)
Ayurveda , The science of life. This is One of the oldest medical system in the world. It originated around 5000 years back. It combines profound thoughts of medicine and philosophy. Ayurveda stood for the wholesome physical mental spiritual well being of human being.

Ayurveda can be defined as a system which uses the inherent principles of nature to maintain health in a person by keeping the individuals body, mind, soul in perfect equilibrium with nature.
Aim of Ayurveda
"SWASTHASYA SWASTHYA SAMRAKSHANA ATHURASYA VIKARA PRASAMANAM"
To protect health and prolong life
To cure the diseases and maintain the balance of body and mind
Universe is made up of five elements, air, fire, water, earth and space. These elements are represented in humans by 3 doshas or energies. Vatha Pitha and Kapha. When any of the dosha accumulates in the body beyond the desirable limit the body loses the balance. Our health and well being depend on getting a right balance of three doshas. Ayurveda suggests specific life style and nutritional guidelines to keep individuals to maintain balance between the doshas.
"LOKA SAMASTHA SUKHINO BAVANTHU"
TREATMENT OFFERED
WELLNESS PACKAGES
Abhyangam
(Massage)
The word Abhyangam indicates Massage. It is considered as one among the poorvakarma (preparatory procedure).It implies massage to the whole body or local body parts as per the condition of disease. It is one among the most common and effective therapy in Ayurvedic medicine. Oil massage therapy aimed improve muscle tone, relieves stress, weight loss, improve skin tone, nerve disorders , aches and stiffness and pain. Induce better sleep. It is usually done for 50to 60 minutes depending up on the condition.
Kizhi
( Bundle massage)
Kizhi is one of the traditional Ayurvedic treatment of Kerala . KIZHI literally means medicated bolus .It is made by tying various forms of rapped medicaments in cotton cloth piece and then applying this bolus to the parts required after heating.
Based on the type of medicines there are many types of KIZHIS.
Ela kizhi - Scrapped medicated leaf bolus are used for the treatment. This bolus applied all over the body in a systemic way in a specific time period, This is also known as Pathra potala swedam.
Podi kizhi - Medicated powder bolus
Njavara kizhi - Bolus made of a specific type of rice called Njavara rice cooked in medicated milk and kashayam[decoction] and make bundle,then it apply on the body.This is a total rejuvenation therapy that take care of skin,pain,and improve circulation.
Pizhichil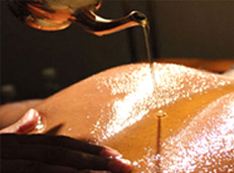 This is a rejuvenation therapy. It is very effective treatment procedure introduced by traditional Ayurvedic physicians of Kerala. This is an ideal for people who have suffered from paralysis and also treatment for the management of severe pain and swelling due to diseases like gout, arthritis, etc. It can be done with different forms of medications.
Sirodhara
This treatment focused on the head. It is a procedure of pouring liquid form of medicines like thylam(medicated oil) or thakram(medicated butter milk)constantly for a time period of 50 to60 minutes on forehead.It help to relax and revitalize our mind and nervous system. It is a helpful treating nervous disorders, insomnia, mental stress, anxiety, etc
Thakradhara – Medicated butter milk that is prepared with herbs poured slowly, steadily flow from a vessel placed over the head. It is very effective in treating skin diseases and respiratory disorders.
Siro Vasthi
It is procedure of treating warm medicated oil in a cap like structure fitted on head. Normally this procedure will be done for 15 minutes to an hour as per the requirment for a time period of 7days maximum. This is considered one of the greatest treatments for head. It helps to cure cervical problems, sleeplessness, migraine and other problems related with the Head.
Nasyam
It is the nasal administration of medications. This treatment helps to eliminate toxins from head neck and nose region. It helps to cure head aches, migraine, sinusitis, cervical spondilitis and facial palsy.It is very effective therapy for all systemic disorders especially those related with the head and neck. It is proved effective therapy for psychiatric disorders.
Thalam/ Thala Pothichil
Thalam is keeping medicated oil alone or mixed with paste of drugs on the head anywhere between 15 to 50 minutes. Application wet medicated paste over the Head and then covering the same with processed banana leaf is called thala pothichil. Both are very much effective in various psycho somatic disorders, hypertension etc.
Lepanam
The Lepana treatment the local application of medicated pastes over the effected area of the body.This is useful in inflammatory conditions and it helps to reduce the pain and swelling.
Swedanam
(STEAM BATH)
It is considered as one among the poorvakarama (preparatory procedure). Usually the time period of swedana is till the patient gets proper sweating all over the body.It helps to eliminate the impurities from the skin. I t gives a feeling of lightness. It is good for skin, helps to reduce the fats collected even on extremities.
Udvarthanam
This is relatively a dry massage. This procedure is done here with medicated powder (choornam) will be rubbed on the body surface with moderate pressure in prathiloma gathi (opposite direction of hair follicles). It is very use full in weight reduction, reduce obesity and help generate better complexion. It helps to remove unwanted fat deposit in the body and also helps to improve circulation.
Vasthi
Vasthi is an important aspect of Panchakarma therapy. Vathi karma is the procedure by which the medicines in suspension form are administered through rectum or genitourinary tract using vasthi yanthra( specific apparatus for vasthi). It is one among the most important treatment modality in Ayurvedic science.It is useful to relive and treat many conditions. Based on the type of drug administered vasthi is 2 types. Nirooha or Kashaya vasthi, In which decoction of various medial plants are utilized and Anuvasana or sneha vasthi, in which medicated oils or ghee are utilized . It is very effective in almost all neurological and arthritis conditions, old age problems, debility, infertility, constipation, arthritis complaints.
Uttara Vasthi
It is done after completion of menstrual cycle, When the female genital tract is receptive to the administration of medicated formulation. A certain quantity of medicated oil or ghee formulation can be administered in to uterine cavity by means of specific sterilized instrument. It is done for a period of seven days with gradual increase of dose of medicines. It is indicated in uterine disorders, bladder disorders, dysmenorrheal and menorrhalgia, primary infertility etc.
Snehapanam
Sneham means Oleos substances.It is the oral consumption of sneham (oleos substances). Generally it is done with Ghrutham (medicated Ghee) It is considered as an important preparatory procedure for Pancha karama therapies (purification therapy), as well as it is considered as a main procedure in treating severe disorders like infertility, psychiatric disorders, obesity etc.
Pichu
In Pichu method of treatment, application of cotton dipped in Luke warm medicated oil and placed on local body parts like Head, lumbar region, cervical region, joints etc. It helps in paralysis, insomnia , hypertension, head ache , migraine etc.
Chavitti Uzhichil
It is the massage done with foot after application of Luke warm medicated oil on the body. It is done by a person, who is well knowledge in Kalari Marma chikitsa. It is very helpful in improving the general strength, tonicity of muscles, stamina, flexibility, weight reduction etc. It is good remedy for low back pain related disc problems (applicable only in certain conditions) and all other aches and pain.
Njavara Theppu
Njavra is a special rice. Njavara rice processed with medicated milk or decoction and making it in paste form, which is to be applied on the body for a particular period. This is good to treat muscular dystrophy, skin problems, improve muscle tone and skin complexion.
Disease Treated
Life style diseases like Obesity, Diebetic, Hypertension, infertility, Arthritis, back pain, sciatica and other musculoskeletal disorder, Sleep disorders, Disorders due to stress and strain
Rules And Regulations
Package includes: Initial consultation, Treatment and Food advised by Doctor, Accommodation.
Exclude : Telephone, Laundry, Trips, Transportation and Lab Test (If advise), Medicines
The Ayurvedic Treatment Packages Includes In a Day
Consultation with Doctor and daily check up
Accommodation
2 treatment, one major and one minor, treatment as decides by Doctors.
Food as advised by the Doctors according to the body constitution of the person
Yoga session (decides by Doctors)
Things To Remember
If your treatment is part of your travelling in India, it is better to make the treatment at the end, because you are suppose to take rest after the treatment.
For lady patients major treatments will not be done during the menstruation.
Bring all the relevant medical report while coming here.
Liquor other unhealthy habits are strictly prohibited during the treatment period.
Any laboratory tests or specialist consultation if needed will cost extra.
We will provide use and throw under wear to wear during the treatment time.
Cotton cloths are best during the treatment period.
Bath towels will be provided every rooms
If you are taking some medication or food supplements at Home regularly, you bring them here and you may stop them later consulting the Doctor.
We provide only vegetarian food as per our Doctor`s recommendation
Please bring passport size photo required for submitting to legal authorities.
Foreign National`s should bring valid passport & Indian`s should bring valid photo ID (pan, adhaar card , license etc)
FOR MORE CONTACTS AND ENQUIRY
CONATCT: Dr. Jayaraj Palangattu
drjayaraj9@gmail.com
Phone.No: +91 94477 17075, 75102 62009
Tariff
Ayurveda package charges are not included the normal charges